Foreign Insurance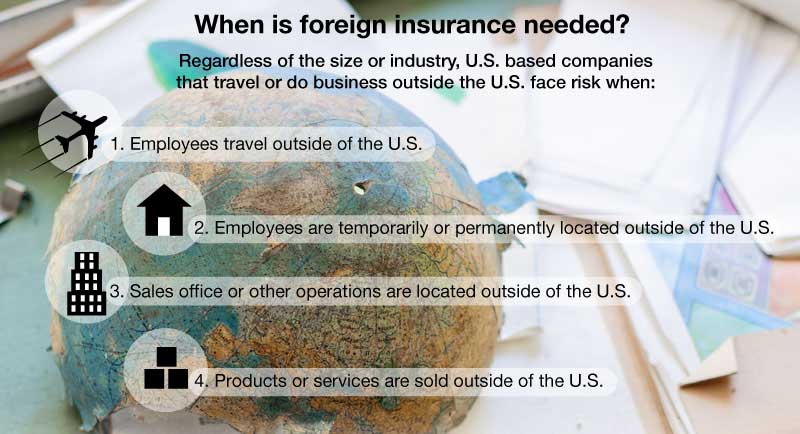 Standard U.S. Policies may not be sufficient to cover foreign exposures
The standard business insurance policies that are sold in the U.S. do not cover many of the exposures to lawsuit or employee injury that may occur outside of the U.S. In addition, overseas jurisdictions often require policies and extensions that only international carriers provide. For this reason, many U.S. companies with foreign exposures buy a Foreign Package Policy that contains a number of coverages such as Foreign General Liability, Foreign Contingent Business Auto, Foreign Voluntary Workers Compensation, Foreign Property, Kidnap And Extortion, Accidental Death & Dismemberment, and Emergency Travel Services. The minimum premium for a Foreign Package policy can be as low as $2500.
Unexpected losses can snowball when they occur on foreign soil
U.S.-based manufacturers, distributors, and other firms doing business overseas face the following perils:
Threats of kidnap and extortion, and not just in war zones
Employees becoming seriously ill or are injured, crashing a rental car, losing irreplaceable documents, or being detained by foreign authorities while traveling or working overseas
Property loss exposures, from laptop theft to fires, storms, or man-made hazards.
Being sued in foreign jurisdiction
Manufacturers and distributors that sell products outside of the U.S. may be sued in foreign jurisdictions. As a result they will need Foreign General Liability coverage. A U.S.-based General Liability policy only covers lawsuits for foreign injuries that are filed in U.S.. For this reason a manufacturer or distributor sued in a foreign jurisdiction will not have adequate insurance coverage. Why does this matter? Once a judgment is filed in a foreign jurisdiction, the manufacturer or distributor may face the following perils:
Assets in the foreign country may be seized to satisfy the judgment
you may be prevented from doing future business in the foreign country
a long arm statute may exist that allows the foreign judgment to be satisfied in the U.S. from U.S. assets.
Who can be sued?
Manufacturers and distributors that own or rent offices or have operations (ex: meetings, demonstrations, trade shows, manufacturing, installation, etc.) outside of the U.S. can face foreign suits arising out of the ownership or rental of office or other premises (ex: slip and fall or fire damages landlord's building) or resulting from their operations. Foreign General Liability coverage may cover these exposures.
Employees who are temporarily outside of the U.S. may be injured on the job and may need a special type of coverage for emergency evacuation to adequate medical facilities, repatriation of remains in the event of death, or coverage for endemic diseases.
Employees who are temporarily outside of the U.S. may need special emergency travel services to overcome political or language barriers in the event of medical or legal problems.
Employees who are permanently located outside of the U.S. will need Foreign Workers' Compensation coverage.
Employees who use vehicles outside of the U.S. will need Foreign Contingent Auto Liability coverage to provide limits of protection over and above the minimal limits that are required to be purchased from the rental company in the foreign country.
Get a reduction in your premium by purchasing a Foreign General Liability Policy
If a Foreign General Liability policy is in force, it is possible that you may be able to negotiate with your U.S. based General Liability carrier to exclude coverage for foreign claims that are filed in U.S. courts (you don't need this coverage anymore since this exposure is covered under the Foreign policy). If this exclusion can be placed on your U.S.-based General Liability policy, the amount of foreign sales can be subtracted for premium determination purposes. This could result in a significant premium reduction under your U.S. based General Liability policy.
The reason for this savings is rate that is charged for the Foreign General Liability policy should be substantially less than the rate that is charged under the U.S.-based General Liability policy. Foreign General Liability rates are less because the legal climate is much less favorable for injured parties filing lawsuits in foreign jurisdictions. Unlike the U.S. court system, foreign courts usually do not allow contingency fees, liberal discovery rules, or punitive damages. Furthermore, many foreign courts require the losing party to pay the legal defense costs of the prevailing party.
– See our blog for How Purchasing Foreign Liability Insurance may reduce your Product Liability Insurance costs.
Educational articles for Foreign Insurance
Foreign Litigants In American Courts: How Foreign Parties Can Sue, and Be Sued, In the United States.
This article first appeared in the 2005 edition of The International Comparative Legal Guide To: Product Liability, published by and reproduced with permission from Global Legal Group Ltd, London. For more information please visit www.iclg.co.uk.
Nothing on this website is intended to constitute legal advice. Please consult your attorney for legal advice regarding legal issues
Find out if a foreign insurance product liability policy can get a reduction on your general liability policy. Contact Paul Owens for more information at 800-622-7370.