Pharmaceutical Products Insurance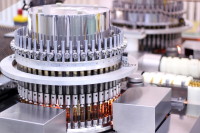 Access To The Top National Insurance Companies Specializing In Medical Products Manufacturers and Distributors Provides Ease Of Doing Business and Huge Savings
Complete Just One Application And Receive Quotes From The Top National Insurance Carriers That Specialize In Medical Product Liability Insurance
Pharmaceutical Products Insurance Quote Request »
Medical And Pharmaceutical Products Require Special Underwriting Expertise To Properly Evaluate. Don't Be Fooled Into Thinking Just Any Insurance Agent Understands Which Insurance Markets To Approach
Flexibility To Meet All Of Your Insurance Coverage Needs For Medical And Pharmaceutical Products:
Up To $25,000,000 Liability Limits
Available In All 50 States
Product Liability Only Or Full General Liability With Product Liability
Deductible And Self Insured Retention Options Available
Additional Insured Vendors Endorsement Included
Ability To Cover Just Specified Products
Premium Financing Available
Professional Liability Insurance Add On Available
Discontinued Product Liability Options Available
What Do Our Clients Say?
"Everyone was very friendly and helpful. Applying was easy and we got prompt replies, when needed."
Samantha Babb
Brant-Wald Surgicals, Inc.
"You are professional and do it right!"
Bob Pozgar
Coakley Cane Company, LLC
"Response time was quick. Sales rep/customer service reps all are very professional, courteous and extremely helpful."
Basil Konstantinidis
Omorphia, Inc.
Click Here To Print Application For General Liability Quote Including Product Liability Insurance Or Call (800) 622-7370 And Ask For Our Products Liability Department