Medical Marijuana Insurance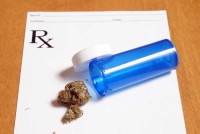 Providing the most comprehensive insurance coverage available for medical marijuana growers, dispensaries, manufacturers and vendors
Coverages available for Medical Cannabis Community:
Growers and Cultivators 
Coverages are specifically designed to meet the needs of small to medium sized Growers and Cultivators, including greenhouses and nurseries.
Coverages Available:
General Liability
Cannabis Workers' Compensation
Building, Equipment and Crops Property
Nationwide Roadside Assistance
Fire, Theft and Vandalism
Finished Marijuana Stock
Transit and Delivery
Manufacturers and Vendors 
Commercial kitchens of consumable products such as cannabis-infused cookies, candies and drinks must meet the same standards as current manufacturers and vendors of everyday edible products found in the home. Product labels must show the list of ingredients. Any outside contaminants found in the products may subject manufacturers and vendors to  product liability lawsuits.
Coverages Available:
Product Liability
Stock Spoilage
Business Property
Finished Stock
Theft and Fire
Equipment Breakdown
In-Transit/Cargo
Employee Dishonesty
Workers' Compensation
Dispensary and Caregiver 
Dispensaries, collectives, caregivers, and cooperatives face many challenges moving forward.  Employee and customer safety may be an issue as the number of dispensaries increases. Also, issues regarding legality and interpretation of newly formed laws will be an issue for many new businesses.  The coverages listed below will help protect the assets of the business and increase the chance of having a successful long-term business.
Coverages Available:
General liability
Business Property
Commercial Auto
Workers' Compensation
Payroll Services
State Raid and Legal Defense
Why Choose Sadler For Medical Marijuana Insurance?
Sadler & Company, Inc specializes in helping businesses that sell unique and high hazard products that standard insurance companies are not willing to consider.  The tougher the business the more we like it. We respect your need for complete confidentiality. Many of the products we insure are new inventions and many of the businesses we insure are unique and have unique marketing and business plans.  We are currently working with 18 of the top product liability insurance providers and are licensed in all 50 states.
Complete one simple application to get quotes for General Liability, Product Liability and Property Insurance.